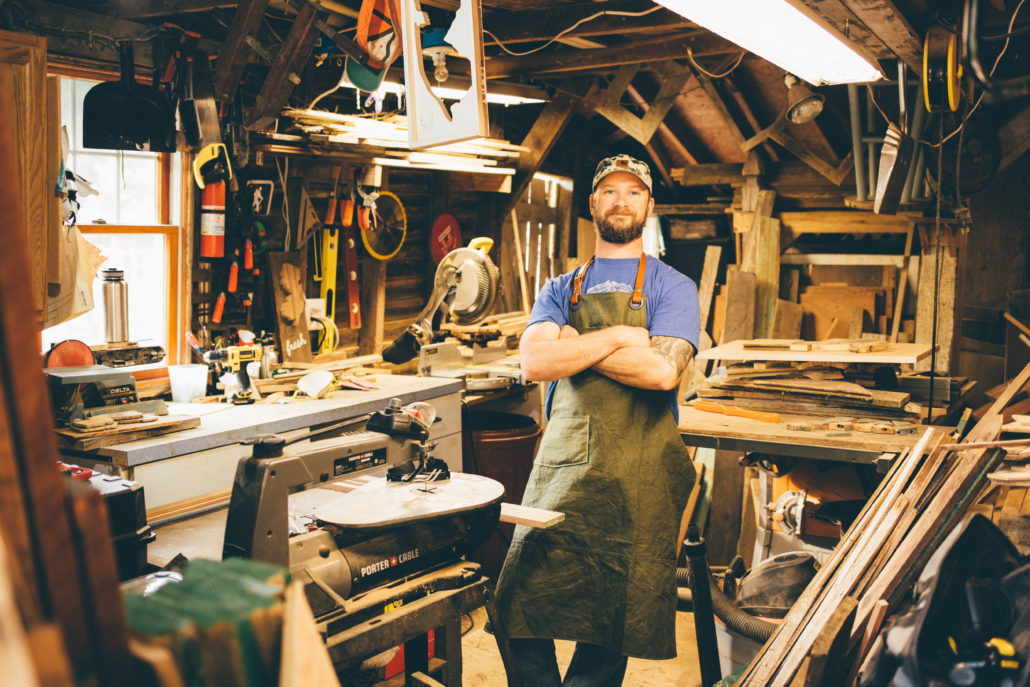 Reclaimed is a business centered around my love for the natural environment, woodworking, and art. I've always been into the outdoors and being creative. I grew up in a home where gifts that were handmade, were treasured more than gifts that were bought. As a boy I was always playing around in my dad's workshop. I learned much of what I know from watching my dad work in his wood shop and everything else I learned by trial and error and by reading books. In grade school and college I took many different art courses: sculpture, ceramics, photography, and painting. I've always been into art. In some classes I'd be drawing and sketching away…wanting to be elsewhere creating things of beauty. And finally, my passion for the environment, especially the critters that inhabit it, came from Boy Scouts and my dad, a veterinarian. I really hated scouts…all the meetings and the uniforms were terrible. But the camping was unreal! I loved every second of every day outside, hiking, sleeping under the stars, canoeing whitewater in northern Maine. It helped form me into the man I am today. What grew my passion for wildlife was watching and helping my dad treat injured wildlife, especially birds of prey. I have photos from when I was a little kid holding juvenile owls and other critters. I chose a career in wildlife conservation to help protect species so they are around for future generations to enjoy.
I originally started working with salvaged wood and framing back in 2002. I started by collecting old dune fence from beaches on Long Beach Island. I used the old dune fence to make a few small boxes and to frame some of my own photographs as gifts for friends and family members. My first frames were made while attending Unity College in Maine. In my senior year I was assigned a project for my environmental stewardship class to leave a legacy at the school. I chose to frame photos that I took of the school while studying there. I framed them using the salvaged dune fence. The piece was hung in a hallway outside a classroom.
After college I returned to work in New Jersey and then I started framing my own photographs of my work with rare wildlife in New Jersey. Many were sold at fundraisers for the organization I work for: Conserve Wildlife Foundation of NJ. During this time I've begun to become quite the collector of salvaged wood. While at work or play I always keep my eye out for anything that I think could be re-purposed. I also collect wood to help reduce this type of materials out of the waste stream. Some estimates put construction and wood waste at 28% of the waste stream.
I've collected a bunch of salvaged wood throughout southern and coastal NJ. From old cedar fencing collected at Dennisville Fence to tongue and groove cedar that was salvaged from my friend's house in Barnegat Light when he decided to remodel. I love working with salvaged wood because of it's history and wear/tear. In some cases it can tell a story of its past use. I enjoy telling stories of where the wood came from and I think it adds to the value of the product by knowing who and where it came from!
All materials that I sell are hand made in my small workshop in New Gretna, NJ, which was built in the early 1930s. The salvaged wood that I find is re-purposed or "upcycled" into very unique wood frames, furniture, and other creations. No wood waste is created in my work shop since it is heated by a wood burning stove (so is my house!) and all framing supplies that I use are proudly "Made in USA."
Looking for a custom frame? Shoot Ben an email.
Come out and see my work in person!